Care + Use
Avoid sharp objects that may damage the liner. Wipe surface spills and clean the interior using a damp sponge. Do not use detergents or cleaning solutions containing bleach. Hang to dry.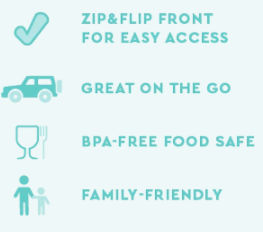 Boxxi
Our Boxxi Lunch Bag is perfect for on-the-go meals and everyday field trips! Grasp the convenient, top handle or snap the buckle around a backpack or gym bag for hands-free carrying. The front zipper pocket keeps small items snuggly in place while snacks and sandwiches stay cool inside. The colorfully durable exterior and interior fabrics are wipeable and waterproof.
Exterior PVC-coated polyester shell is waterproof, wipeable, and puncture-resistant
The BPA-free, food-safe lining allows for worry-free use and is easy to clean
Zip&Flip construction allows both compartments to unzip and open fully for wide access and easy cleaning
Removable insert features an adjustable divider and adds extra protection and insulation
Adjustable side pocket fits a Swig Life 20oz Bottle, 22oz Tumbler, 20oz Tumbler, 12oz Skinny Can Cooler, & 12oz Combo Can Cooler
Front zipper pocket perfect for napkins, flatware, and notes
Top handle with buckle is great on the go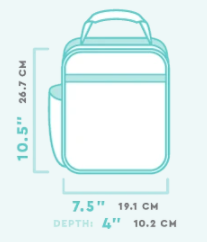 Zippi
The Zippi Lunch Bag is perfect for meals on the move or everyday adventures! Its top handle makes it easy to carry, while the back zipper pocket keeps napkins, utensils, and notes snuggly in place. Separate top and bottom zipper compartments are ideal for storing fruit, chips, and other fun snacks separately from your reusable food storage container. The wipeable and puncture-resistant exterior fabric makes cleaning up a breeze.
Exterior PVC-coated polyester shell is waterproof, wipeable, and puncture-resistant
The BPA-free, food-safe lining allows for worry-free use and is easy to clean
Zip&Flip construction allows both compartments to unzip and open fully for wide access and easy cleaning
Top compartments are perfectly sized for fruits, veggies, snacks, and drinks
Bottom section is ideal for food storage containers
Back zipper pocket is perfect for napkins, flatware, and notes
Top handle with buckle is great on the go